Air cooled spindle motor uses a fan to dissipate heat without too many environmental restrictions and is easy to operate for CNC router machines. HOLRY offers high quality 800W, 1.5kW, 2.5kW to 7.5kW air cooled CNC spindle motors, working at three phase 380V AC, ER 32 and other collets are provided. Best air cooled CNC router spindle matched with VFD, engraving machines or CNC engraving machines, used for high speed profiling, drilling, cutting, engraving and groove milling of wood, metal, plastics, foam, rubber and other materials.

Air cooled Spindle Motor Application : Milling,Engraving,Drilling in all kinds of CNC Router machine.HOLRY Air cooled Spindle Motor for sale, As Air cooled Spindle Motor Manufacturer & Supplier ,Factory Direct Sales. At present, they are mainly exported to more than 60 countries such as USA, Italy, Germany, Brazil, Russia, Pakistan, etc.
Air cooled Spindle Motor feature :
★ Spindle has the characteristics of low noise,high speed and high precision suitable for processing especially fine workpiece,such as seals,nameplates badges, gifts and so on.
★ Air cooled Spindle Motor has the advantages of compact structure,light weightsmall inertia,fast response, high speed, large power, simplified machine tool design, easy to achieve spindle positioning,is the ideal structure of high-speed spindle unit.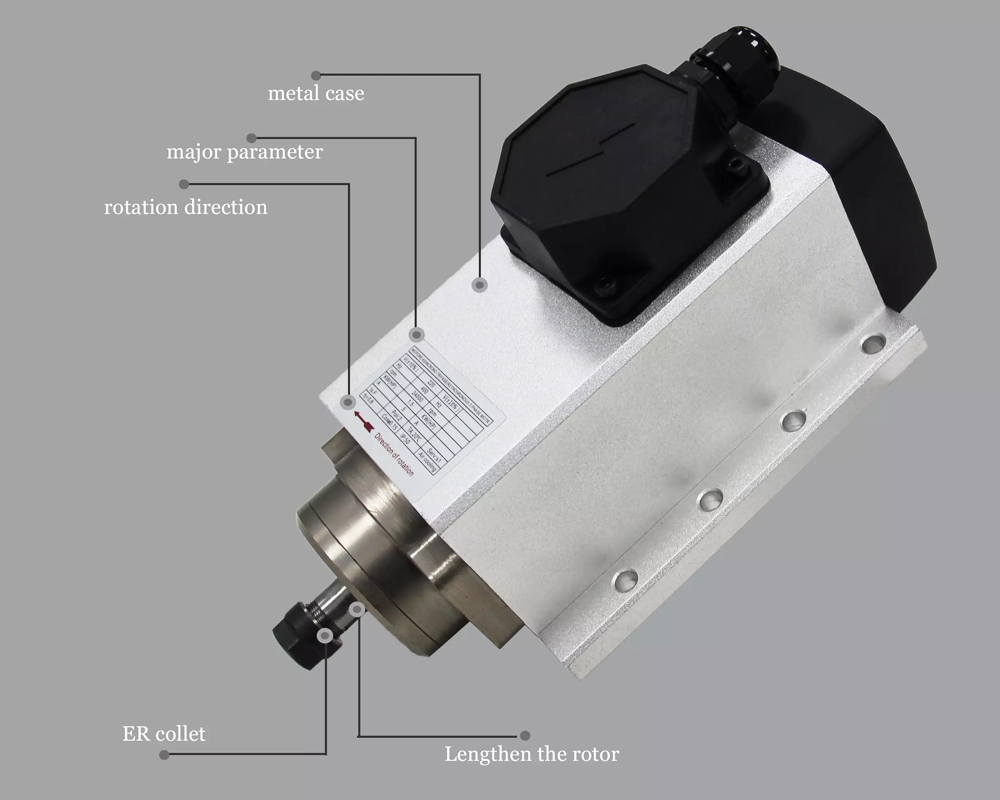 Air cooled Spindle Motor Characteristics:
1.Save costs and time--With flanges, customers can have fewer mounting plates and are more convenient.
2.With high precision ------ Adopt ER series collet nut, has the unique character- istics of high precision.
3.P4 grade angular contact bearings or ceramic ball bearings are used. With such bearings, the strength and stiffness of electric spindles are greatly improved and the RPM can reach 24000r/min.It can provide strong support for high efficiency and high precision processing of CNC.
4.High precision dynamic balancing testing is conducted on all rotable parts with the tolerance value of less than G0.4.
5.The airtight shaft bracket made of extruded aluminum raises the protection class of electric spindles to be lP50 and protects internal parts from the threat of dust.
What is an air-cooled spindle CNC motor?
Air-cooled refers to designing a forced convection channel between the housing of the electric spindle and the stator of the motor. The heat generated by the motor enters the forced convection area through heat conduction, and then the heat is brought into the air to realize the constant temperature operation of the electric spindle. Air cooling is pollution-free. If the static pressure gas bearing is used, the gas of the static pressure gas bearing can be used to circulate a part of the heat of the motor inside the main shaft.